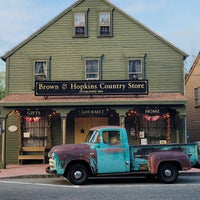 Brown & Hopkins
Brown & Hopkins has been in continuous operation since 1809. We offer an extensive selection of goods, online and in store. Choose from our inspiring collection of home accents, candles, sweets, gourmet specialties, and unique gifts
~A Store for all Seasons! Open Year- round!~
Our online store aims to offer a curated selection of products for easy shopping with options for shipping and in store pickup! Can't find what you're looking for? Contact us via email or Facebook, and we will quickly respond to all inquiries.
Visit us at 1179 Putnam Pike in Historic Chepachet, and browse two floors full of seasonal home accents, realistic faux florals, everyday gifts, and gourmet specialties. We take pride in creating beautiful displays. Delight in the ambiance and discover the way shopping is meant to be!
Testimonials
Let me begin by saying that I've been a fan of Brown and Hopkins for decades! I am grateful that I've been able to recapture some of that Brown and Hopkins magic thanks to you and your online store!

June L. ~ Fort Payne, AL
In 1999, my husband and I moved to Florida. Being a Rhode Island girl at heart, I travel 'home' as often as I can and I always visit Brown and Hopkins.  Your store is a piece of home and holds a special place in my heart.

Karen Z. ~ Merritt Island, FL
I've found nothing in all these years that even comes close to Brown and Hopkins. As soon as I walk through the door, something magical would happen. The ambiance of the shop is so therapeutic.

June L. ~ Fort Payne, AL
The store was so magical to a young girl and that was the beginning of my love for Brown and Hopkins. My favorite Christmas presents have come from your store!

Karen Z. ~ Merritt Island, FL
For me, your photos of your shop are a blissful reminder that beauty and grace still exist. We were never out of it, at all, it's just that yours seems so extra special right now. And in my head, I'm telling myself, oh get real---it's only a shop! Sure, but no! it's a little mental vacation & we need nice things to see!

Deb T.