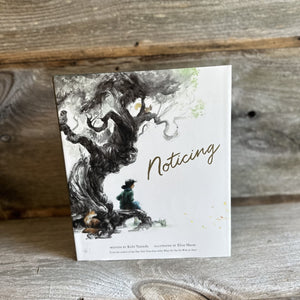 Written by Kobi Yamada
Illustrated by Elise Hurst
"The miraculous is everywhere and in everything. Waiting for us to notice it. Waiting for us to appreciate it. Waiting for us to love it."
This is a story about noticing the little things, the grand big things, the imaginary, and sometimes, hidden things. It's a tale about embracing what's possible. Written by New York Times best-selling author Kobi Yamada, Noticing follows the discoveries of a painter and her young protégé. Together, they explore what it means to observe with your heart, and use your imagination to expand your vision.
With whimsical watercolor illustrations, this beautiful children's book is an invitation to slow down and notice that the incredible is everywhere, and in everything—waiting to be known. And to realize that when we take the time to truly observe the beauty and magic around us each day, we begin to understand the promise and potential that is available to us all.
Be sure to discover the companion book in this series, Trying.
Who it's for:

 

A timeless classic for birthdays, back-to-school season, or just because.
Design details:

 

Features breathtaking illustrations that give readers hidden wonders to discover, and an enchanting dust jacket with foil stamping.
Why we love it:

 

Filled with powerful lessons for readers of all ages on emotions, mindfulness, and perspective.